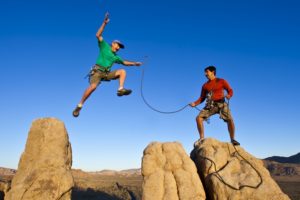 It was an AH-mazing group who attended my Constructive Conversations seminar last week.
They were so "into" the topic.
They asked smart, insightful questions.
They shared openly about their challenging conversations and offered helpful input to each other.
As I was basking in the good feeling of loving this group, it made me think how this was such a great metaphor for teams and whole workforces.
I found myself thinking about seminars where participants didn't have the intellectual horsepower or level of insight this group did and how it didn't have the kind of electricity and fun this group had.
Are there teams in your organization like that?
Are there teams that you KNOW could perform at a MUCH higher level?
Are there teams that need a shake-up, in your opinion?
I found myself also thinking about seminars where there were one or two people who either were "problem children" or just didn't "get it" and the attention, effort, and energy I had to devote to just managing them and not having their toxicity or lower operating level drag the rest of the group down.
I found myself thinking about how all it takes is one person to suck the life out of a team, siphon off energy from creating to "dealing with them".
Does THAT sound familiar to you?

Often when I've talked in seminars about having "We need to free up your future" conversations, someone will share a story about how their whole department, and even their whole company culture changed after a toxic employee was let go. It was like this heaviness left, like a dark cloud passed and the sun came out.
It also reminded me of a senior leader in an organization who told me how she and fellow senior leaders actually had a closed-door meeting to discuss how to make the best of one of the members of the senior team who was toxic…and still had her job after twenty years. when I asked her if the president of the organization had ever addressed her toxic behavior…well…you know the answer.
I wrote about this in Stop Trying to Make Talent Management Chicken Salad Out of Chicken "S@#t" 
Do YOU Have Toxic Team Members Who Are Dragging Down the Rest of Your Team or Organization and Yet Nothing Is Done About This?
If you can relate to either:
You're trying to do great things, but you have people performing at B- or below levels.
You have negativity problems
You want to create a stronger, more positive culture that not only will boost productivity and morale, but will enable you to attract A-List Talent
…then I recommend you share this article with your leadership team:
Stop Paying The Price For Conversational Cowardice At Work