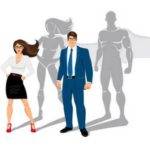 What would you like your team or your whole workforce to do more of?
How about:
Provide friendlier, more attentive, more proactive customer or patient service?
Demonstrate higher standards in their work?
Act more collaboratively within and across teams?
Show more initiative, like looking for and preventing potential problems before they happen?
Engage in more proactive outreach to potential clients?
Whatever you would like to see more of from your employees, the seven minute audio clip below will help you do so.
---
BTW…if you came here from my ezine, I realized AFTER I emailed you that I put "video" in the subject line vs. "audio"…oops it is an audio NOT a video.
---
It comes from a talk I gave last fall titled How to Engage Today's Employees, describes how to get make this happen.It does so in two different ways.
Use Examples and Stories to Get More of What You Want
First, it models one of THE most important—and simple—ways to get more of what you want. That's to recognize, comment on, and express appreciation for the behaviors that provide value, the behaviors you want to see more of.
Storytelling and the ICE Effect
When you share examples and stories, like you will hear in the clip, about employees "rocking it" you unleash the power of storytelling to influence. Stories that illustrate employees doing great things create the ICE Effect.
They:
I – Inspire other employees. They demonstrate what "awesome looks like" and encourages them to bring their "A-Game" to work.
C – Celebrate employees being awesome. They let employees know "We notice and appreciate that you do this!" As I like to say to managers "What you appreciate, appreciates." Just as you want the money in your retirement fund to appreciate—i.e. grow—there are employee qualities and behaviors you would like to grow and multiply. "Celebrating the awesome" helps you do that.
E – Educate employees about what behaviors, actions, and attitudes you value most. Sharing examples and stories of what specifically you want is like playing virtual reality training videos for your employees. As you describe what the person or team did that was so great, your employees are seeing the scenario in their mind, as if they are watching a training video that teaches that specific highly valued behavior, action, or attitude.
What Managers and Leaders Do That Foster Greatness; and What They Do That Fosters Disinterest and Disengagement
Second, the examples and the mini-story I share illustrate specific manager and leader behaviors that lead to employees wanting to give their best vs. those that lead to employees caring less and less about making a contribution or even doing a good job. 
Brief Context on Why I Told the Story
The half-day workshop that this audio clip was excerpted from, was a public workshop sponsored by of OHI, a Bangor, Maine-based organization.
I was so appreciative of, and impressed by, how great Mindy Ward and Jonathan Allen of OHI were to work with, I wanted to give them a "shout out" at the beginning of the presentation. As I thought about what I wanted to say, I realized that rather than just say "Thank you Mindy and Jonathan for being so great to work with" I could turn what happened into a teachable moment for the audience by both demonstrating the use of storytelling to "celebrate awesome" (and therefore get more of it), as well as give specific examples of critical Managerial Moments of Truth that either increase or decrease employee engagement.
How to Put This into Action
Please don't make this an "OK…that was cool" situation that doesn't make a difference in your life.
Instead, after you listen to this clip, I encourage you to:
Share this post and audio clip with your colleagues. – Discuss how you can make "sharing stories of awesome" a more regular part of your communication and interactions with your employees. It can be as simple as being more mindful of "catching people doing things right" and sharing what you noticed at your  next team meeting.

Discuss how you can make "sharing stories of awesome" a more regular part of your communication and interactions with your employees. It can be as simple as being more mindful of "catching people doing things right" and sharing what you noticed at your next team meeting.
Practice being more mindful in general about how you interact with your employees and ask yourself:"Do I do things that thwart my employees' desire to do their job well?" (e.g., not getting back to them, not communicating expectations, etc.)"Do I do things that communicate I take them and their hard work for granted?""How can I demonstrate more fully and more regularly that I care about each member of my team as an individual?""How can I communicate more fully my passion for, and belief in, what we do and the good we do in the world?"
New Programs By David Lee
If you would like to exploring bringing any of the following to your organization or association feel free to email me 
How to Conduct Stay Interviews and Conduct "Help ME Help YOU Help US" Conversations
"Transcending Differences…Generational and Otherwise"
"A Mindfulness Approach to Preventing Sexual Harassment"