Greetings!
I look forward to seeing you on Friday for the morning program "Courageous Conversations"
Please Come With…
Notebook
One or more courageous conversations you want to have. I want you to to have a real situation you can apply the material to, and not just leave it theoretical. Remember, we won't be doing role plays, we'll have real conversation as real people about real situations.
Your favorite stuffed animal (just kidding)
Location, Time, etc
Woodfords Family Services
15 Saunders Way
Westbrook, ME  04092
Suite 700 – Training & Resource Center (Red and Gray Building) – Note…the winding road on Saunders Way goes around the edge of a large parking lot with warehouse like buildings, so it can seem a little confusing (at least it was to me).
Here's an aerial view that gives you the big picture (or if you plan on parachuting in). I added the yellow line to give you a visual of how it twists and winds on the outskirts.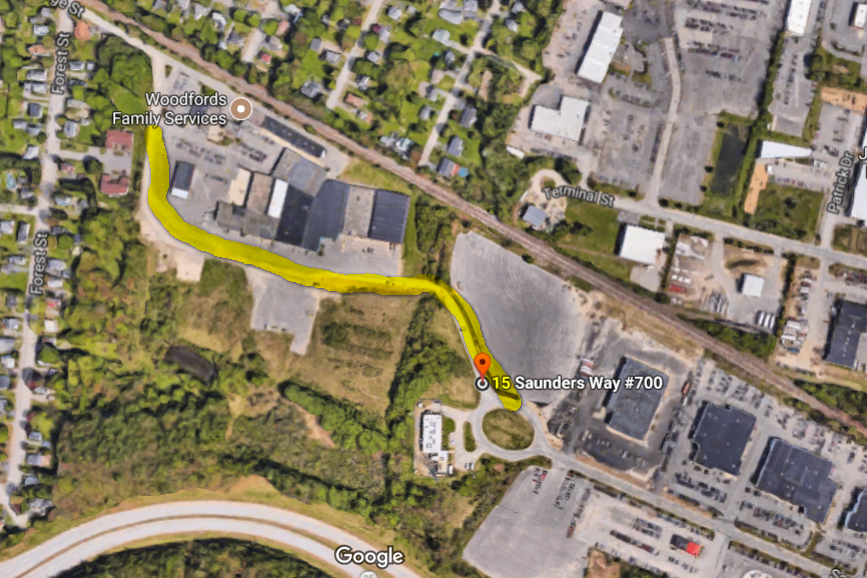 Notice how Google Maps shows 15 Saunders Way before you actually get to Woodfords, which adds to the navigation pleasure.
Start and End Times
We will start at 9 and go to 12.
If you have any questions, feel free to ask away!
Best regards and see you soon,
David Lee